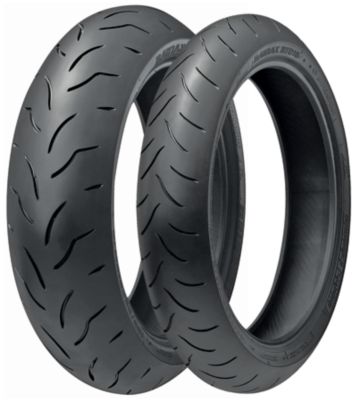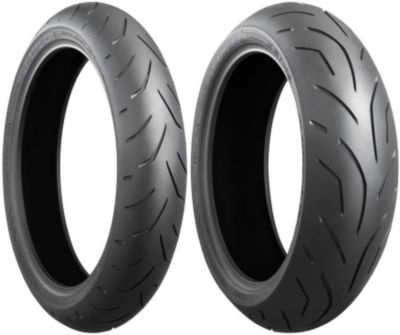 Motorcycles have their own specialized tire needs, and
Bridgestone understands them perfectly
, developing high-performance tires for personal use and professional racing. Within the motorcycle racing circuit, Bridgestone has established a name for itself by providing tires that deliver the grip, balance, and cornering ability that has carried riders to victory over dirt and asphalt alike.
Whether your journey takes you sport touring, city commuting or off-road trekking, Bridgestone tires combine the strength and safety to put you in harmony with your machine.
Our most popular Bridgestone Motorcycle Tires are the BT003RS, for the serious carver and the Battlax BT023 GT for the mileage-oriented rider that hits thw twisties on occasion.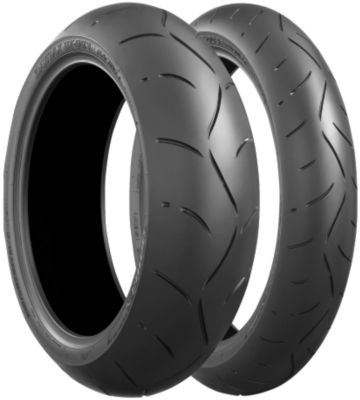 BT003RS Features:
The Bridgestone Battlax BT003 Racing Street tire is the ultimate street tire that handles the back road twisties during the week, and the knee dragging hairpins on the weekend.

Bridgestone took their MotoGP technology and imbedded them into the BT003 to produce a dual compound tire designed for the your streets.

Dual compound technology on the BT003 tire provides a higher mileage tire while generating exceptional corner grip.

Bridgestone developed a Silca rich compound that heats the BT003RS tire quicker, providing traction from the time your motorcycle's engine cranks.
Battlax BT023 GT Features:
Long wear life, high level of wet performance for TOURING, and high performance similar to a SPORT tire.

Provides good bump absorption, grip and stability during high speed riding.

Comfortable cruising for touring with good bump absorption and less noise. This contributes to richer feedback and a more secure contact feel in all conditions.
Shop for
Bridgestone Motorcycle Tires
at Kneedraggers.com!